Dynamic Checkweigher Systems
Dynamic Checkweighing is a method of weighing & monitoring product weights in a production line.
A Checkweigher system will check the weights of products whilst in motion, rejecting any products that are over or under the set weight within the required legislation.
Starflex Checkweighing machines have been developed over many years. They give unrivalled accuracy and flexibility to ensure our customer's products remain compliant at all times. Starflex supply a full range of machines with specifications to suit all industries. Our control system has many advanced features but remains user friendly.
All Starflex Checkweighing machines can be specified to the very latest and highest retail specifications. We offer a full range of optional equipment to compliment our machines.
The Starflex range of Checkweighing machines are designed, developed & manufactured in the UK, using stainless steel construction, high precision components & FDA approved contact parts. The Starflex Checkweighers are designed to be accurate & reliable, quick release parts for ease of maintainance & cleaning with a recognised low cost of ownership.
Starflex Checkweighing machines can handle a large range of product weights, pack types and sizes on both standard and bespoke designs, from 10g to 50kg and at speeds up to 250ppm. Starflex Checkweighers have the following benefits & product range.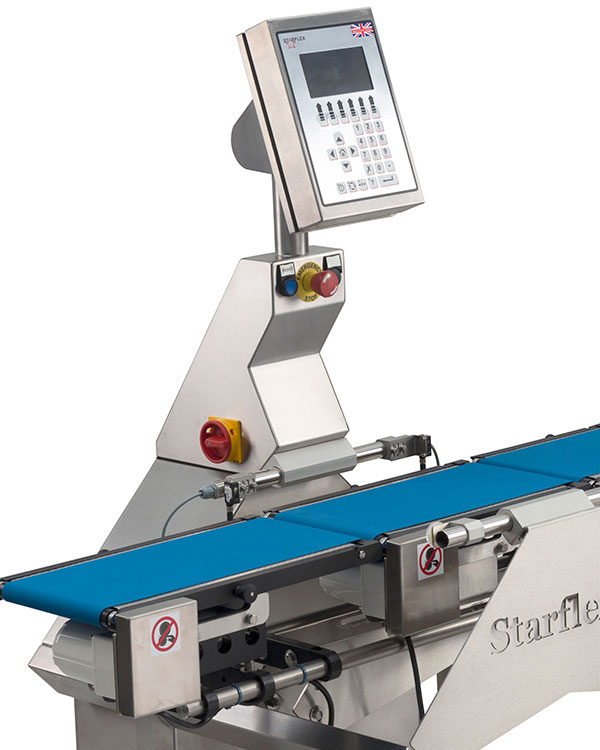 Cost Effective.
High levels of Performance.
Simple and Robust design.
Quick release parts for easy and effective cleaning.
Low Cost of Ownership.
Accurate and Reliable.
Stainless Steel Construction
Stainless Steel High Precision Bearings
FDA Approved Belts
Light Duty 0 to 2.5 KG
Medium Duty Upto 7.5 KG
Heavy Duty Upto 50 KG
Low Level Patented Design
Special Purpose Bespoke design