Dynamic Checkweigher Systems
Dynamic Checkweighing is a method of weighing & monitoring product weights in a production line.
A Checkweigher system will check the weights of products whilst in motion, rejecting any products that are over or under the set weight within the required legislation.
Starflex Checkweighing machines have been developed over many years. They give unrivalled accuracy and flexibility to ensure our customer's products remain compliant at all times. Starflex supply a full range of machines with specifications to suit all industries. Our control system has many advanced features but remains user friendly.
All Starflex Checkweighing machines can be specified to the very latest and highest retail specifications. We offer a full range of optional equipment to compliment our machines.
The Starflex range of Checkweighing machines are designed, developed & manufactured in the UK, using stainless steel construction, high precision components & FDA approved contact parts. The Starflex Checkweighers are designed to be accurate & reliable, quick release parts for ease of maintainance & cleaning with a recognised low cost of ownership.
Starflex Checkweighing machines can handle a large range of product weights, pack types and sizes on both standard and bespoke designs, from 10g to 50kg and at speeds up to 250ppm. Starflex Checkweighers have the following benefits & product range.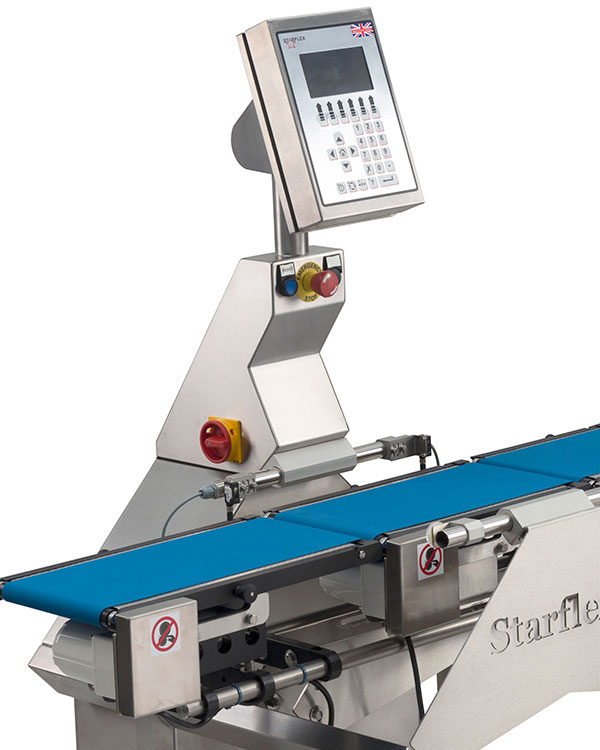 Checkweighing means to compare the weight of a product against preset limits. The Checkweighing system will check weights of products whilst in motion, rejecting any products that are over or underweight. For example, if you're selling a box of chocolates, you want to ensure all boxes are the same weight so that people pay the same price for the same amount. So, if the boxes are labelled 500g, you can put each box on the scale to find out if it's under, over, or within a weight range of your choosing.
The machines can achieve in min weight operation or average weight modes. It allows you to tighten up on current average weight legislation but won't allow you to go outside keeping our customers compliant.
Checkweighers can also be integrated with other inspection equipment such as Metal Detectors, X-Ray and Label Verification to help save valuable production space.
The product is weighed and monitored whilst it is moving on the production line usually at the end of the line when the product is packed and finished.  Generally, the product enters the checkweigher via an infeed conveyor to ensure the pitching between products is correct. It is then dynamically weighed on the weigh table before being moved on to the outfeed where good products will pass through or out of tolerance products will be rejected from the line. The product is weighed multiple times whilst travelling across the weighing conveyor and the average is calculated.
They are seen in the largest volumes in the food and pharmaceutical sectors. However, they are used in all industries where a product is being sold by a declared weight or count. They can also be configured and integrated with other inspection equipment such as Metal Detectors, X-Ray machines, seal testers & label Verification systems are used and sold based on weight, the food industry relies heavily on Checkweighers.
Checkweighers are vital for making sure that products are consistent and the users stay compliant from a weights and measures point of view. They also have a number of fail-safe features that are insisted upon by the major supermarkets and BRC etc. When used in conjunction with Metal Detection and X-Ray equipment they form a Critical Control Point (CCP) to ensure consistent quality even on the highest volume lines.
An accurate Checkweigher will ensure less waste and enable more products to be produced from the same amount of inventory. Raw materials can be very expensive, and a checkweigher will ensure that you make the most of existing resources.
Example: Reducing the overfill of a 450-gram pack by one gram on a line producing 200 packs per minute, running 16 hours a day for 230 days of a year would result in you saving enough raw materials to make an additional 98133 products.
Starflex machines are recognised one of the lowest costs of ownership in the industry. We are also happy to produce bespoke solutions and will integrate with existing OEM equipment.
Checkweighers function to keep the user compliant with regard to weights and measures. Starflex machines work in either Average weight or Minimum weight modes. In principle, any finished product can be checked to ensure our customer remain compliant at all times. Checkweighers are employed in all areas of industry. Starflex split their Checkweighers into two main types Food and Pharmaceutical and Non-Food. They are then subcategorized into weight groups 0 to 2.5kg, 2.5kg to 7.5kg and 7.5kg Upwards.
Have a question? get in touch:
Cost Effective.
High levels of Performance.
Simple and Robust design.
Quick release parts for easy and effective cleaning.
Low Cost of Ownership.
Accurate and Reliable.
Stainless Steel Construction
Stainless Steel High Precision Bearings
FDA Approved Belts
Light Duty 0 to 2.5 KG
Medium Duty Upto 7.5 KG
Heavy Duty Upto 50 KG
Low Level Patented Design
Special Purpose Bespoke design